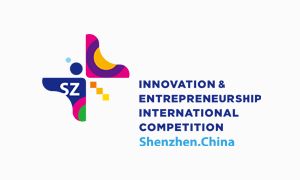 A total of 76 teams from eight countries showcased their creations and projects during the semifinal of the First China (Shenzhen) Innovation & Entrepreneurship International Competition in Pingshan and Longgang districts Thursday, which is a parallel event of the 15th Conference on International Exchange of Professionals (CIEP) to be held Saturday and Sunday.
The semifinal contestants stood out from 1,210 applicants in regional contests, which were held in eight areas across the world - Silicon Valley, Sydney, Toronto, Munich, Tel Aviv, London, Tokyo and Bangalore, the third-largest city in India - between March 16 and 30.
The teams were divided into five groups focusing on different industries, including electronic science, advanced manufacturing, materials and energy, Internet and mobile Internet, and biology and life science. The top three winning teams from each group will participate in the final contest in Longgang District on Friday.
Quanovate, a company that has developed a testing device for ovulation prediction, won the championship of the regional contest in Silicon Valley. According to the company's COO, Sylvia Kang, users can check their hormone analysis on an app within five minutes of inserting a test strip into a fist-sized device.
"We plan to add more functions to the device for the detection of flu or other diseases in the future," Kang said, adding that the company has been registered with the Food and Drug Administration in the United States, and that the devices will go on sale in the United States in the fall and enter the Chinese market next year.
Kang said that the company was interested in setting up a branch company or building a supply chain in Shenzhen. "In fact, some hardware parts of the device are sourced from Shenzhen," she said.
Inna Braverman, co-founder of Eco Wave Power, an Israeli company that won the second prize in the materials and energy industry group, said that her firm joined the competition because they were looking for investors, business partners and government support in China to introduce the company's zero-emission wave energy convertors to the country.
"Wave power is clean electricity and it's very suitable for China, because China has 18,000 kilometers of coastline and more than 6,500 islands," Braverman said. Her company is developing a power station for wave energy in Zhejiang Province, and they are also looking to set up a power plant in Guangdong Province considering the area's abundant wave resources.
The competition will offer a total of 9.12 million yuan (US$1.44 million) to the final winners. The top winner will be awarded up to 1 million yuan at an award ceremony during the CIEP, according to its organizer.
Over 15,000 professional representatives and 4,500 organizations and companies from over 70 countries and regions are expected to attend this year's CIEP. Eight job fairs will be held, at which 1,258 employers will offer 31,380 job vacancies to college graduates, overseas returnees, foreigners and other jobseekers.
(via Shenzhen Daily)